Earn upto 33% for each sale for WP Email Capture!
How To Sign Up
Firstly sign up to eJunkie as an Affiliate (it's free).
Once you've signed upto eJunkie click this link to sign up to the WP Email Capture Affiliate Programme.
Add your links to your website or email newsletter. You can do this by following the instructions on this page on eJunkie.
Banners
Here are some banners for your website. Feel free to use them.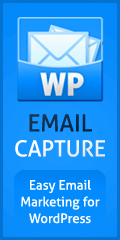 Keep Upto Date
To keep upto date with affiliate news, please sign up to our affiliate newsletter:-