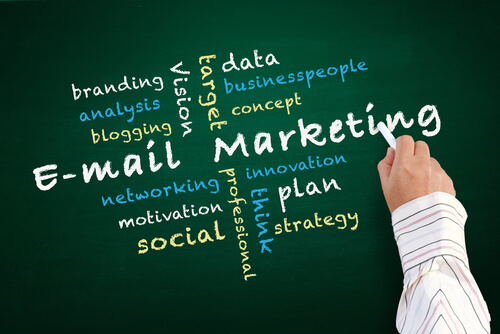 This post is by Stephan Jukic from Reachmail.
Email marketing lists are still one of the best and most powerful ways for any small business owner or online seller to build up a base of fans to which they can sell their products. Not only this but the conversion rates and ROI for email marketing still remain some of the most optimal of any digital marketing method according to some figures seen here from Econsultantcy.
What also makes email marketing even easier today than it's ever been in all of its not too long history is the sheer availability of easy to use, off the shelf tools that can be joined together into a full blown email marketing package that you can have running in just hours or days at the most.
One of these tools, probably the most powerful, is the website management platform WordPress. More formally known as a Content Management System (CMS), WordPress is free to download and install to a specific domain on your web hosting and can be used to create all sorts of beautiful websites, blogs and landing pages in no time and with little coding knowledge.
Furthermore, thousands of available plugins can be attached to your WP site and give you access to special email marketing or SEO optimization tools that can be also activated in just minutes.
Thus, if your idea is to start an email marketing campaign for whatever you're selling or promoting, starting off your website through the ease of a WordPress site and going from there is your absolute best option for low costs and potential high returns.
Let's get down to some details.
Pick your Theme Carefully
Assuming you already have a domain name registered and a website up and running, you're going to want to start with a "theme" for your WordPress site. Themes are basically just skins with their own distinct built-in functionality that can be downloaded to your base website and installed so they run according to their specific requirements. If you have a blog, you'd need to install a blog friendly theme, and if you have a static opt-in site, you should go for an even simpler landing page theme for your email marketing.
You can get your hands on all kinds of WordPress themes at websites like Themeforest and Elegant Themes. These will cost you a bit of money to buy but they're worth the price if you're looking for maximum functionality. Thousands of free WordPress themes are also available from the WordPress.org site itself but they often lack the more robust features and cleaner looks of paid themes.
The bottom line for whichever theme you choose is that it needs to be optimally designed for giving you the highest possible opt-in rates for your campaign.
This means you should choose themes whose visual interface neatly, smoothly and in a very visible way emphasizes your site's email opt-in area for first time visitors. This applies whether you're using a blog theme or a static landing page theme. In both cases, go for themes that give you a clean, elegant and modern display, which makes opting in with an email, address easy to do and as enticing as possible.
Ideally, your email opt-in section should be boldly visible front and center on your static landing page or very obviously located to one side or another on a blog based landing page.
Use Plugins for Maximum Performance
Like we had already mentioned, WordPress isn't just about the themes themselves. Its power is even further enhanced by the massively diverse availability of plugins and addons that can be downloaded and installed to your WP sites so that they have all sorts of extra functionality and features.
Many of these plugins can be specifically used in the context of email marketing and help you boost your visitor opt-in and conversion rates beyond what you'd get with a simple landing page.
One excellent example of a fantastic little plugin that many famous marketers have seen really boosts their own email opt-in rates is the email opt-in pop up window! These can be installed on your blog or site so that when a new visitor browses to it, the pop up springs up a few seconds after their arrival and offers the reader a clear and impossible to miss value proposition in exchange for their email address. This value proposition can be access to exclusive content, a free report or a bonus offer of some kind.
Either way, as the above link shows, using pop-ups can really cause your email conversion rates to jump above the rate they would have with a typical opt-in section on your WP landing page.
The best thing about pop-up plugins? They're available as WordPress plugins and really easy to download, install and set into tailor to your site. Here's one really powerful example from Optin Revolution, as well as this one from Pippity.
In addition to email marketing pop-up plugins, your WP site will let you install and use all sorts of other addons that can also be awesome allies in boosting the success of your email marketing campaign. This is the power of WordPress, the fact that it makes all of this so simple, cheap and easy to do.
Set up Email Marketing Software
As a final but crucial step in making your email marketing campaign work effectively, you'll need to set it up through software that's specifically built for managing email campaigns. You could run your email collection manually, but this would not only be really time consuming, it would also damage your ability to really fine tune your campaigns with specialized mail outs, targeted email campaigns and all sorts of email analytics data.
Thus, the need for some good email marketing software that can hook up to your WP site. All kinds of options are available, but the best option may be to use WP Email Capture, from this very site. Visit their website, see what the requirements are and build it into your WordPress site before launching your email campaign.
Stephan Jukic is enjoys writing about email marketing for Reachmail. He also loves to read and write about subjects as varied as the idea of a location-free business, portable business management, and strategic marketing and advertising tactics. Connect with Stephan on Google+ and LinkedIn.