Today I'm delighted to announce the release of WP Email Capture 3.5 for both the free & premium versions.
This version a lot of work has been done to make the plugin more GDPR friendly. I live in Europe and I am a very proud European so I'm keen to meet all privacy laws as they are important and can directly affect me. Here's what's new in both the free version and the premium version.
An "Accept Privacy Policy" Checkbox
GDPR compliance for sites not serving the EU is ultimately optional, but generally it's recommended. That's why when you begin WP Email Capture you will see in the Settings section of WP Email Capture the "Enable GDPR settings". If you click that box a checkbox will appear beneath your signup form, requiring users to explicitly accept the Privacy Policy.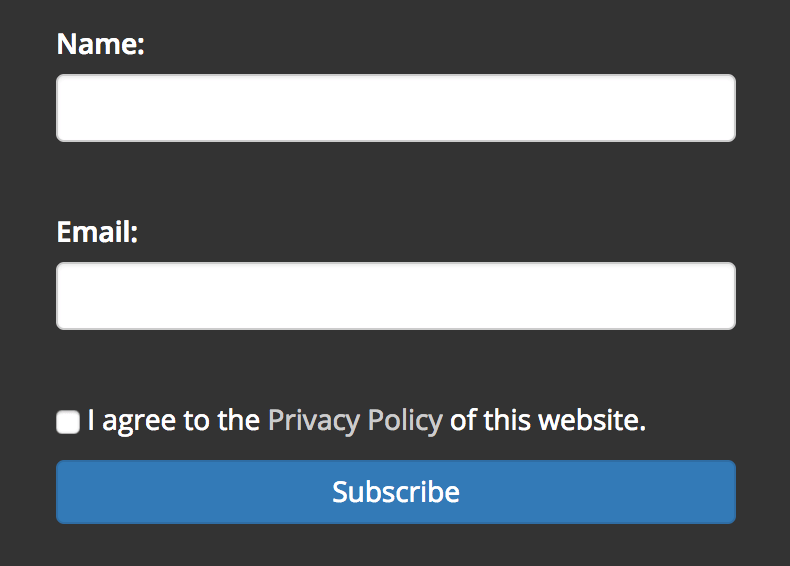 The words "Privacy Policy" are linked to a privacy policy, that can either be the one introduced in WordPress 4.9.6, or one you create elsewhere. If you accept the checkbox you will be able to sign up to the site and go through the double opt-in process again.
Privacy Policy Sample Text
Speaking of the Privacy Policy, if you create a Privacy Policy in version 4.9.6 or above sample text is added to a page that you can copy and paste into your Privacy Policy. In WP Email Capture 3.5 we add text to that page so that you can copy and paste it into your Privacy Policy. It's meant as a starting point, and does not cover what happens after you collect that data, but it will detail what data the plugin collects.
If you haven't updated to WordPress 4.9.6 yet, you can copy and paste this text from the WP Email Capture > Settings page.
Dealing with Requests for Data
Also, another WordPress 4.9.6 feature improvement is the Export/Erase personal data feature. This enables you – after confirmation – to delete or export data from your site. WP Email Capture connects with this functionality to allow you to do this.
Automatically Delete Data
You can also delete data automatically should you choose to enable this. This is a setting within WP Email Capture > Settings that will allow you to wipe data that is over a certain age. This you can also share within your Privacy Policy when added, or you can leave it switched off.
GDPR Friendly, not GDPR Compliant
As a statement, these are the steps we've taken to make our plugin GDPR Compliant. However, we cannot say we are GDPR Compliant as – no matter what – you are not going to get a compliance solution from a plugin. Furthermore, WordPress knows this, so be wary of any plugin that promises to make you GDPR Compliant. Compliance is an ongoing process, and may require speaking to a lawyer, so I assume no responsibility that this plugin will make your entire site GDPR Compliant.
On a Personal Note
In a way, I'm glad that this legislation has come into force. WP Email Capture as a product has always aired to be fair, and treat users with respect. We genuinely do respect your privacy: The plugin does try to prevent unsuitable eyes from prying. We've refunded submissions when purchasers have asked us to hack the plugin to allow users to access the temporary signup list. We believe in having a smaller, engaged list from people who want to be there is better than having a larger list that you annoy.
You may have noticed we've also not deleted or asked you to resubscribe to our email list because – well – it was double opt in and you requested to be on it in the first place. I believe that those who followed the same practices and principles I followed with WP Email Capture are starting to show the benefit now.
With that said, we have updated our Privacy Policy. Check it out.
Other Improvements
We also worked on improving the Changelog routine on the WP Email Capture > Changelog page. We were noticing it was nowhere near up to date, so we are working on improving it so it's easier to update now.
Get WP Email Capture
To download this latest version, please click on the button below.
Click to download WP Email Capture Free
Upgrading to the premium version costs $49 for a year and entitles you to a year's support and updates. To receive said update, please click the link below.
To be notified of updates as well as receive special offers and exclusive content, please consider signing up to our email list:-